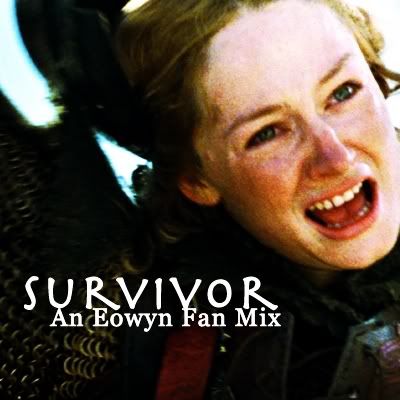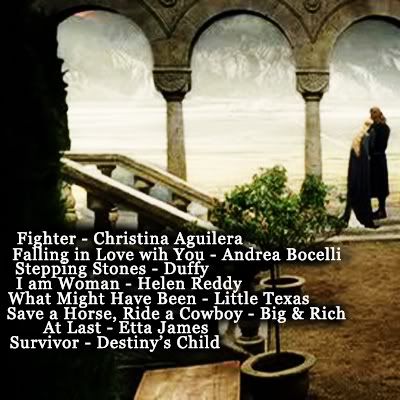 This fanmix is about Eowyn and her journey in love throughout the Lord of the Rings movies. The title of the mix is 'Survivor' because Eowyn is just that. She survives losing one love and gaining another, not to mention her beloved Uncle being taken over by evil and becoming crazy. In Rohan, Eowyn is alone, longing for love. She is trying her hardest to make her Uncle remember the king he was and train for the war. Once Gandalf reverses the curse on him, she falls in love with Aragorn, but he rejects her for some elven princess. Eowyn goes back to her fighting, disobeying her Uncle to go to battle, where she defeats the Witch King, finally getting over Aragorn. To add injury to insult, Aragorn takes care of her in the houses of healing, rekindling those feelings of love. In the house of healing, Eowyn meets Faramir, her love for all time and soul mate. Eowyn survived it all.
Fighter – Christina Aguilera
"Fighter" on youtube
Makes me that much stronger,
Makes me work a little bit harder,
Makes me that much wiser,
Thanks for making me a fighter.
Made me learn a little bit faster,
Made my skin a little bit thicker,
Makes me that much smarter,
Thanks for making me a fighter.
Falling in Love with You – Andrea Bocelli
"Falling in Love with You" on youtube
Wise men say, "Only fools rush in"
But I can't help falling in love with you
…
Take my hand, take my whole life too
For I can't help falling in love with you
Stepping Stones – Duffy
"Stepping Stones" on youtube
I will never be your stepping stone
Take it all or leave me alone
I will never be your stepping stone
I am standing upright on my own
I am Woman – Helen Reddy
"I am Woman" on youtube
I am woman, hear me roar
…
I can do anything
I am strong
I am invincible
I am woman
What Might Have Been – Little Texas
"What Might Have Been" on youtube
I try not to think about what might have been
'Cuz that was then and we have taken different roads
We can't go back again, there's no use giving in
And there's no way to know
What might have been
Save a Horse, Ride a Cowboy – Big & Rich
"Save a Horse, Ride a Cowboy" on youtube
And the girls say, "Save a horse, ride a cowboy"
Everybody says, "Save a horse, ride a cowboy"
At Last – Etta James
"At Last" on youtube
At last my love has come along
My lonely days are over
And life is like a song
…
And you are mine, at last
Survivor – Destiny's Child
"At Last" on youtube
I'm a survivor
I'm gonna make it
I will survive
Keep on surviving